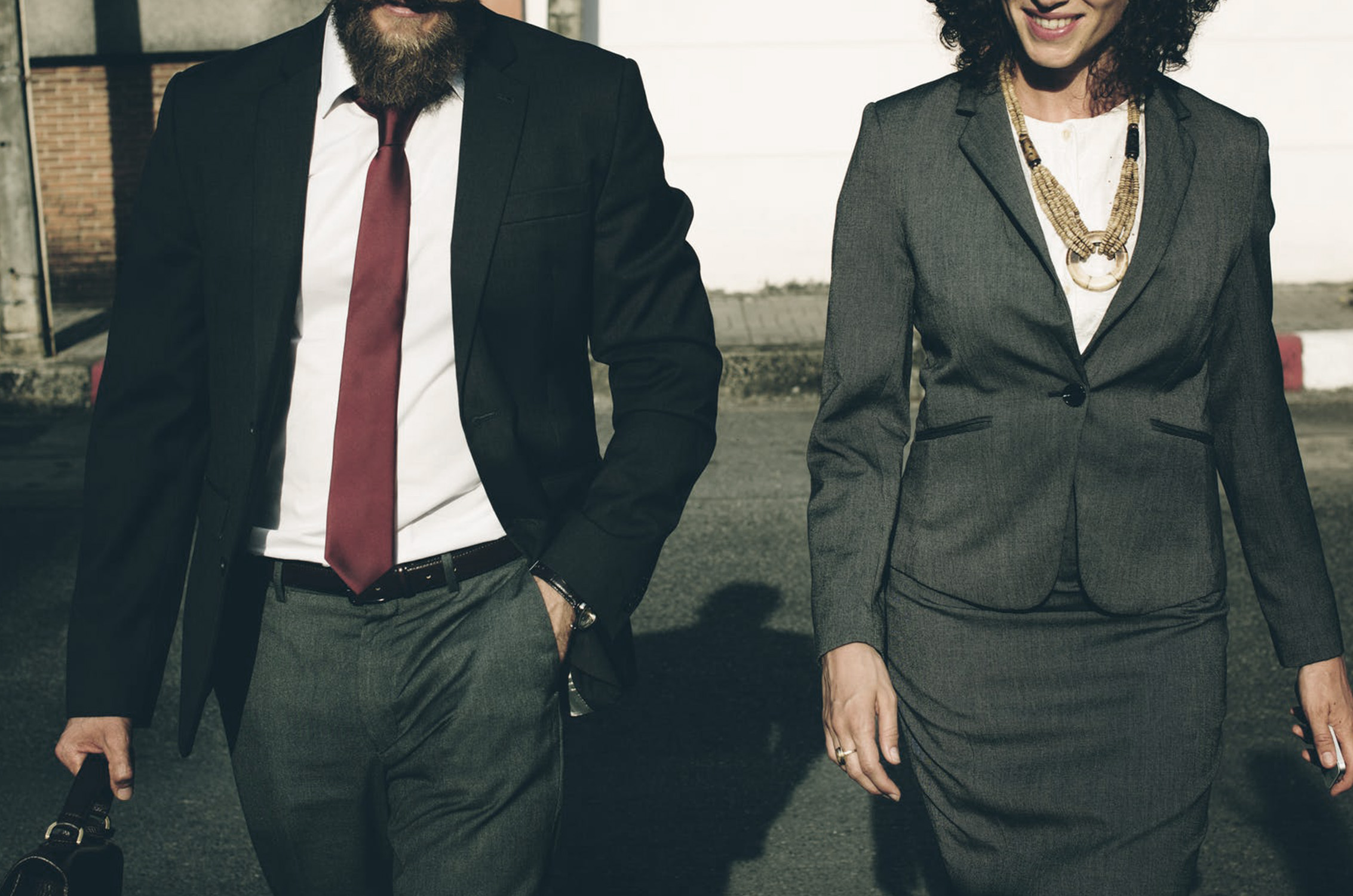 The Gender Dilemma: How to Be a Man or a Woman in Today's Workplace
Last year, we saw many corporate scandals take center stage, forcing us to take a step back as a society and reevaluate the environment in which we work. The recent public reckoning with sexual harassment has had a chilling effect on the workplace, leaving both men and women confused on how to interact with each other moving forward, and top brass wondering what to do to manage the risk.
When is friendly too friendly, and when is silence just plain rude? Is hugging inappropriate? What about being alone in a room with a female colleague?
These are the questions many have been asking themselves for the past couple of months, often scared of coming off too strong or unsettling their peers. And while these are important questions that should be raised, it is important that we not lose sight of the practical solutions…
At the end of the day, we need to take this male/female dilemma in the workplace for what it is: a diversity issue.  Where it gets tricky is in the sexuality of it all.  But the sexual side of the story is quite simple – there is no situation where sex (sexual advances, sexual innuendos, etc.) is okay in the workplace.  Well, okay, maybe the porn industry, but most of us aren't working in that environment…so let's save that for another day!
Let's put aside the creepy and inappropriate behaviors in the sexual harassment bucket (where there are laws in place and clear definitions) and focus on the man/woman/people side of the situation.
Men and women are different. Plain and simple. This is no different from other cultural issues. When you are not the same as someone, it can be less "comfortable" to be around them. It is also easier to offend, sometimes unintentionally.  As we aim more for equality in general, organizations need to reckon with how inclusive the workplace is – what cultural tone they are setting on equality in general – equality of opinion, insight, opportunities, workload, type of work, pay, etc.  Are there clear boundaries on acceptable AND unacceptable behaviors as well as expectations?
TEST YOUR LEVEL OF INCLUSIVITY
It's easy to assume that we're doing the best we can to foster a positive culture for our team, but we all have blind spots and there's always room for improvement.  Download our free assessment to see where you stand in the inclusivity scale!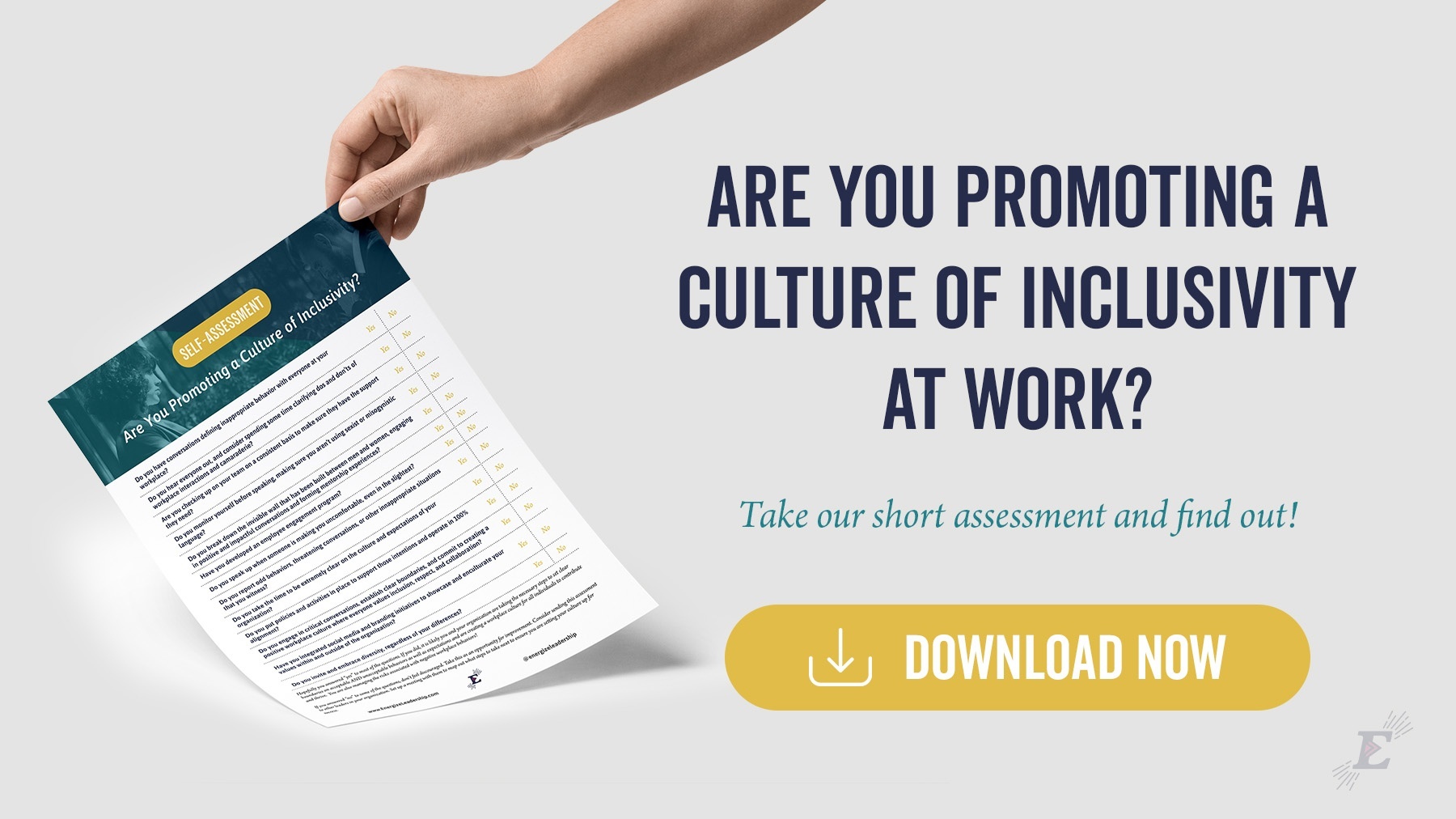 #1: Have Open, Honest & Productive Conversations
The first step leaders need to take in this messy situation is to identify inappropriate behaviors. This is critical because it serves as a guidepost for what not to do. Awareness is key!
This task requires that leaders have real and truthful conversations with their employees, executive team, consultants, customers, vendors, and anyone else that is part of the culture of the organization. Make sure to hear everyone out, and consider spending some time clarifying dos and don'ts of workplace interactions and camaraderie. Understanding individual boundaries is key to establishing expectations that others can be held to – and they go a long way in helping individuals not cross the line unintentionally.
#2: Embrace The Need For Change
If there is anything we learned last year, it is that there's a lot of room for change. This doesn't have to be daunting, though. There are many things we can ALL start doing today to ensure that everyone is being heard and respected. Below are three quick tips:
THINK BEFORE YOU SPEAK OR ACT
Many times, our opinions are so ingrained in our brain that we don't always realize they may be hurtful to others. Monitor yourself before speaking – make sure you aren't using sexist or misogynistic language. Ask for feedback and adjust accordingly. Also be aware of power gaps which can create underlying questions or assumptions not easily brought to light. Understand that you are putting yourself and your organization at risk by acting inappropriately. There is no room for messing up on this one.
BE INCLUSIVE
An unfortunate consequence in this new era is the invisible wall that has been built between men and women, which harks back to earlier days of other diversity and civility issues. Often there is an overcorrection in order to draw rules and boundaries and create clarity. Not only does this inhibit us from engaging in positive and impactful conversations, but it can also hinder us from forming mentorship experiences or advancing in careers. The focus should be on being open and curious, and finding connections. When we feel different or separate from someone, we are disconnected and less likely to trust and collaborate. We need to find commonalities so we can connect and work together in meaningful ways.
SPEAK UP
When someone is making you uncomfortable, even if only slightly, say something immediately to them. As awkward as this may seem, setting the tone and your boundaries is critically important. Listen to instinct, if something doesn't feel right, don't participate.
Also, don't be a bystander. If you see something odd, report it. If you hear threatening conversations, report it. Speaking up and keeping people accountable will not only help prevent negative experiences, it will also set your organization up for success by reinforcing the cultural expectations and values.
#3 Establish Clear Values & Expectations
Rumbling with gender diversity, as well as any other diversity challenge, is vital to every workplace today. Not only will it strengthen work relationships, but it also helps a business' bottom-line. But don't take our word for it…
According to a UN Report about economic empowerment:
ECONOMY. An increase in female labor force participation results in faster economic growth.
YOUTH. Increasing the share of household income controlled by women, either through their own earnings or cash transfers, changes spending in ways that benefit children
EDUCATION. Increasing women and girls' education contributes to higher economic growth. Increased educational attainment accounts for about 50% of the economic growth in OECD countries over the past 50 years, of which over half is due to girls having had access to higher levels of education
BUSINESS & LEADERSHIP. Companies greatly benefit from increasing leadership opportunities for women, which is shown to increase organizational effectiveness. It is estimated that companies with three or more women in senior management functions score higher in all dimensions of organizational effectiveness
Take the time to be extremely clear on the culture and expectations of your organization. Put policies and activities in place to support those intentions and operate in 100% alignment. When there is a bad apple in the group, it needs to be thrown out. That may seem harsh, but a bad apple really does ruin the bunch. There is no shortage of examples of businesses in major litigation losing millions of dollars to deal with bad apples. Policy and workplace culture are now major indicators of organizational risk, which has a tremendous impact on the perspectives of investors and insurers alike. This is our current day crisis. If you don't manage this proactively, you will be managing it reactively. It is your choice!
BONUS TIP: CULTURE = RISK MANAGEMENT
Boards and investors are paying attention…
Sexual harassment policies now influence potential investors – companies need to have a legitimate plan for managing the risk of sexual misconduct…and also other diversity & inclusion issues…
With the uptick in lawsuits on individuals and organizations as a result of the #metoo movement, a great focus on workplace culture is underway as a major risk-management effort. NOW is the right time to focus on your policies and intentionally shape a culture of inclusivity and equality.
In the end…
We are all guilty of playing it safe. We like to surround ourselves with people who are most like us.  In most cases, those people are of the same gender, race, or culture. In going through the current workplace turbulence our tendency may be to withdraw and play it even safer. What will serve us better is to engage in these critical conversations, establish clear boundaries, and commit to creating a positive workplace culture where everyone values inclusion, respect, and collaboration. Embrace differences. Be curious. Learn something new. Grow stronger. Be better. Contact Energize Leadership for help!