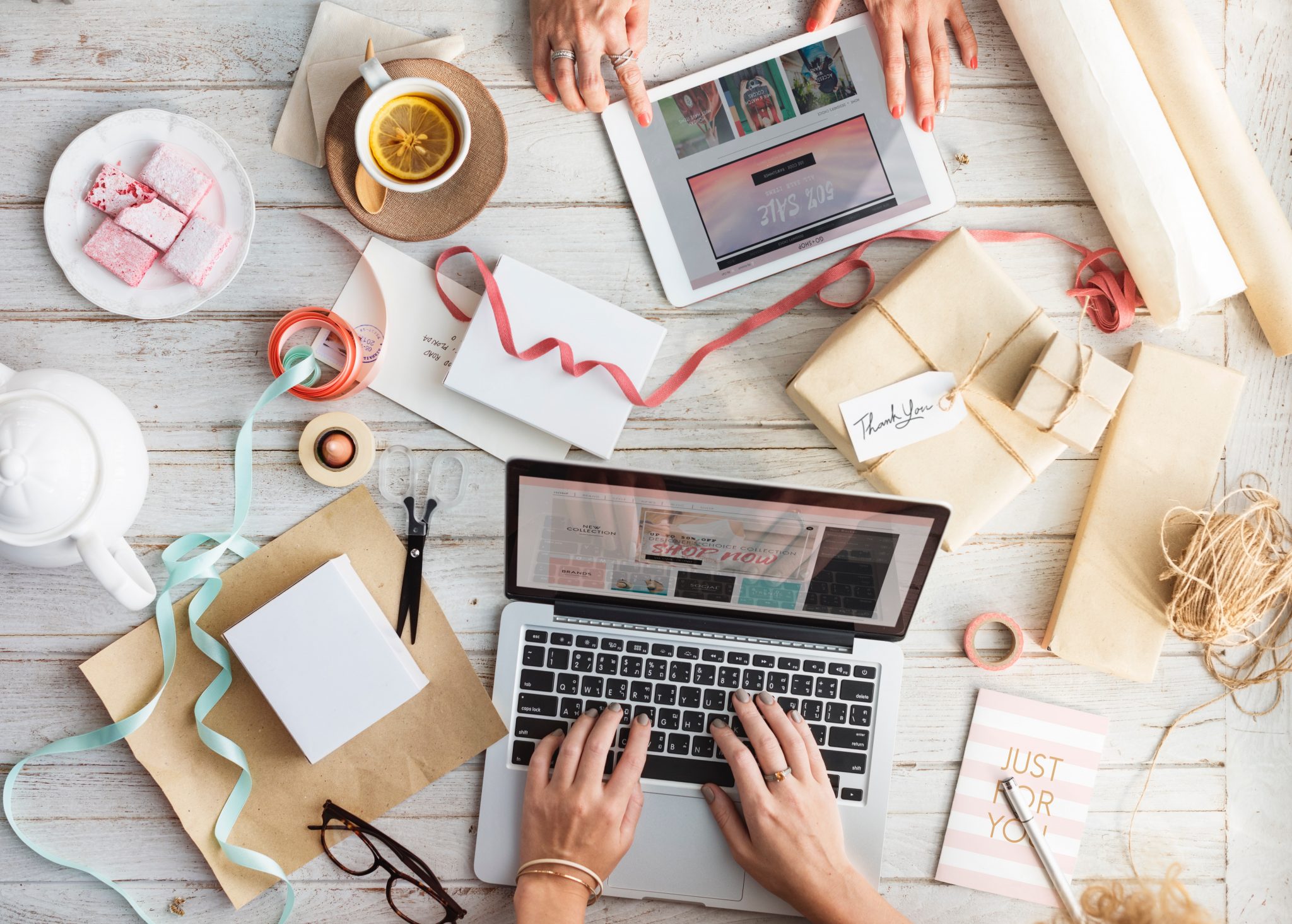 The Ultimate Gift-Giving Guide for the Workplace
Gift-giving season is upon us again, yay! Who doesn't love presents, right? Sure, it can all be fun and gratifying when we receive the gifts we want, or know that we've gifted someone something they really appreciated, but the fear of the opposite happening can evoke some serious anxiety…
We're talking about that icky feeling in the pit of your stomach when you discover your gift wasn't well-received or just flat out unwanted. I'll never forget when an early supervisor of mine re-gifted me a present my colleague had given her the previous year! Ouch! Talk about an unnecessary chip out of the supervisor/employee relationship!  She never did recover from that one. There are so many other examples – that colleague you gifted a bottle of wine, not knowing they were a recovering addict, or the supervisor for whom you whipped up a batch of cupcakes, only to find out they're allergic to gluten! Totally awkward for you, but also for them…
We thought this was an opportune time of year to talk turkey on some serious GIFT-GIVING ETIQUETTE for Leaders!
Ready?? But first… want some tips on how to make sure employees feel appreciated? Check out our free Appreciation Tips download!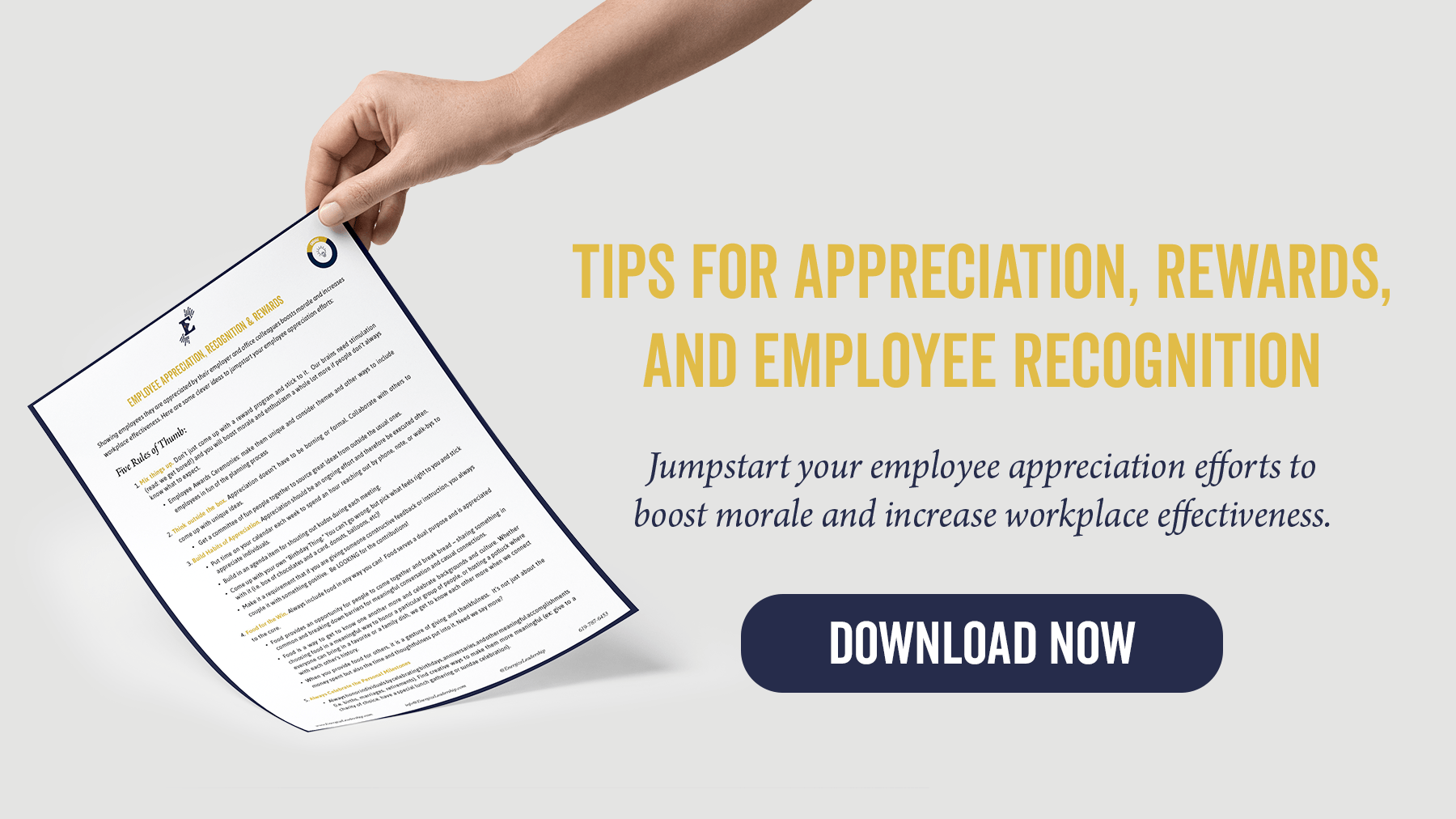 Let's just be real for a minute. Gifts are never about the gift itself. It's an opportunity to make someone feel appreciated, acknowledged, and important.  The best way to give a gift is from your heart. Something you feel good about. The leaders who "gift" well are the ones who have a strategy that is aligned with their values.  So take a minute to determine what you feel "good" giving and focus on those items.
One of our CEO clients gave a personal card and a box of chocolates to every employee on their birthday.  She made sure she hand delivered it or made a personal connection with them as close to their birthday as possible.  Even though every employee received the same thing, it had a tremendous positive impact on her personal relationships and, overall, the culture of the organization.  So as you figure out what your "thing" is, we thought we'd give you some food for thought!
First, let's lay out some Ground Rules!
Remember to treat everyone on your team equally. There's nothing worse than blatant, in-your-face favoritism.

Reach out once a year to all employees asking for their preferences for gifts.  It is the best way to be sure what you give is actually something they would appreciate!

Clarify your organization's rules/guidelines on spending before you spend!

When possible, choose experiences over things. The rush of oxytocin coursing through our brain when we enjoy opening a gift is way more rewarding, fulfilling, and longer-lasting than a tangible gift item. So think a cooking class, workout class, or team outings–a day at the beach or ranch, picnic, ropes course, and so on.  Bonus points if you do a team activity – you'll strengthen the team at the same time.

Make ground rules.  You can either set the tone and establish ground rules as the team leader, or you can work with the group to decide on what everyone's comfortable with.  What makes gift giving hard is that everyone is always guessing and unsure of what is expected. Make it easy by taking the mystery out of it and focus on making sure everyone feels good about it.

Plan in advance so no one feels it was rushed and last minute. Nothing says you don't really care like feeling the stress associated with pulling something off just because the "deadline" is looming.

Mark your calendar, or have an administrative assistant keep track of dates and manage the items, packaging, invitations, and other things that make sure it all happens seamlessly
Some great options we've seen work well:
Treat everyone on your team to lunch, and then give them the rest of the day off (if and when possible… obviously, this isn't always an available option, especially in government agencies or other publicly held firms).
Come up with a theme and then customize the actual item for each individual (i.e. deserts – and everyone gets their favorite cake or lunch delivery for the team, birthday person gets to pick the food).
Fun team activity like go-kart racing, bowling, cupcake decorating, or a painting party.
Gift cards of equal value to all team members. The value just depends on what makes sense for you, and your company. If you're a start-up or business owner with just a handful of employees (not to mention, not a lot of extra cash just casually floating around) up to $50 is more than generous). If you work for a big corporation, maybe a little more than that… you get the idea 😉
Same gift basket for everyone.  Maybe with something everyone gets as well as something that is unique to everyone.
Have employees choose a development day – where they can go learn about something they are interested in.
Gift giving to your boss
Don't go overboard, try to stay within the $10-$30 range. Nothing's more annoying for your boss than to feel the need to "match" the value of your gift in return, or worse, get the impression you're trying to curry favor with them (even when you're not!).
Align your gift with his/her interests as much as possible. Favorite magazines, favorite food or morning coffee, the favorite lunch spot – all are great options for making sure it's connected to their personal interests.
You may have more than one supervisor, manager, etc, and although we all do have that (secret!!) hands-down, clear favorite… steer clear from reflecting that in your gift choices. You might even consider teaming up with colleagues who share the same boss to doing something collaborative.
Never feel obligated to have to spend any money on your boss whatsoever. It isn't expected, and whatever the occasion, a handwritten card from the team, a personalized coffee mug or candle, or just decorating their office with office supplies as a fun morning surprise (making sure you stick to using recyclable items like post-its and paper-clips, AND take care of the cleanup!) are always great, low- to no-cost gestures that will still be much appreciated.
Rules of Thumb
A good unwritten rule, if you're unsure about your choice of gift, is to remember:
If you wouldn't feel comfortable giving the gift you landed on for a particular colleague in front of anyone else, it's probably the wrong choice of gift. In other words, if you think it would embarrass your recipient if others knew what it was, or if others may feel jealous because the gift is too generous, or any other reason that may give others the wrong idea… re-think your choice and decide on something else.
Try not to keep your gift-giving a secret. Whether its a birthday, an anniversary or some other occasion, you should assume that gifts given in the workplace will turn into public knowledge at some point. If you try to keep it a secret, you're only risking the potential for unwanted gossip and creating more fodder for the rumor mill… which won't do either person – you, or your lucky recipient – any favors.
If you are thinking of doing some type of speciality item (wine, a one-month subscription to a video-streaming service, gift card to a restaurant, spa treatment, etc.) do your research on your gift recipient first to be sure it will be appreciated.
Fun Ideas
Secret Santas are a fantastic option for the holiday season because:
it takes the stress out of gift-giving given that the maximum value per gift is pre-determined and not knowing the identity of the gift-giver AND your potential gift recipient is integral to the game, and

it focuses on the fun in the element of surprise!

even if someone ends up with something they're not crazy about, there's always the option to trade with somebody else.
Remember to buy gifts that are:
Size-independent (so avoid clothing apparel, for example),
Gender-neutral, and
Non-religious or offensive
Here are some nifty, practical, and usually always welcome, service or experience ideas:
A week or month subscription to a meal-kit delivery service (HelloFresh, Blue Apron, and Sun Basket are a few great options)
A week or month subscription to video-streaming services (Netflix, Hulu, Amazon Prime, etc)
A day of free childcare/babysitting, coupled with two tickets to the movies (obviously for employees who are new parents!)
Starbucks, Peet's, or an alternatively popular cafe in your area
Spa/salon service
Cleaning service
K1 Speed Racing, Indoor Skydiving, Boomers, Miniature golf, bowling for the thrill seekers
When it comes to gift cards, you can't go wrong – just make sure it's something they'll use (nothing worse than getting a starbucks gift card when you don't like coffee).
==========
All of this said, we know that gift-giving can still be a challenge and even these tips may sometimes fall flat. So although there may be some exceptions to the rule, we'd advise you to strike a balance between keeping these guidelines in the back of your mind and feeling confident in using your own judgment where it applies!
Happy gift-giving, and feel free to leave a comment on what thoughts you have for awesome, appropriate gift ideas!