Episode 5: Is there a secret to managing it all?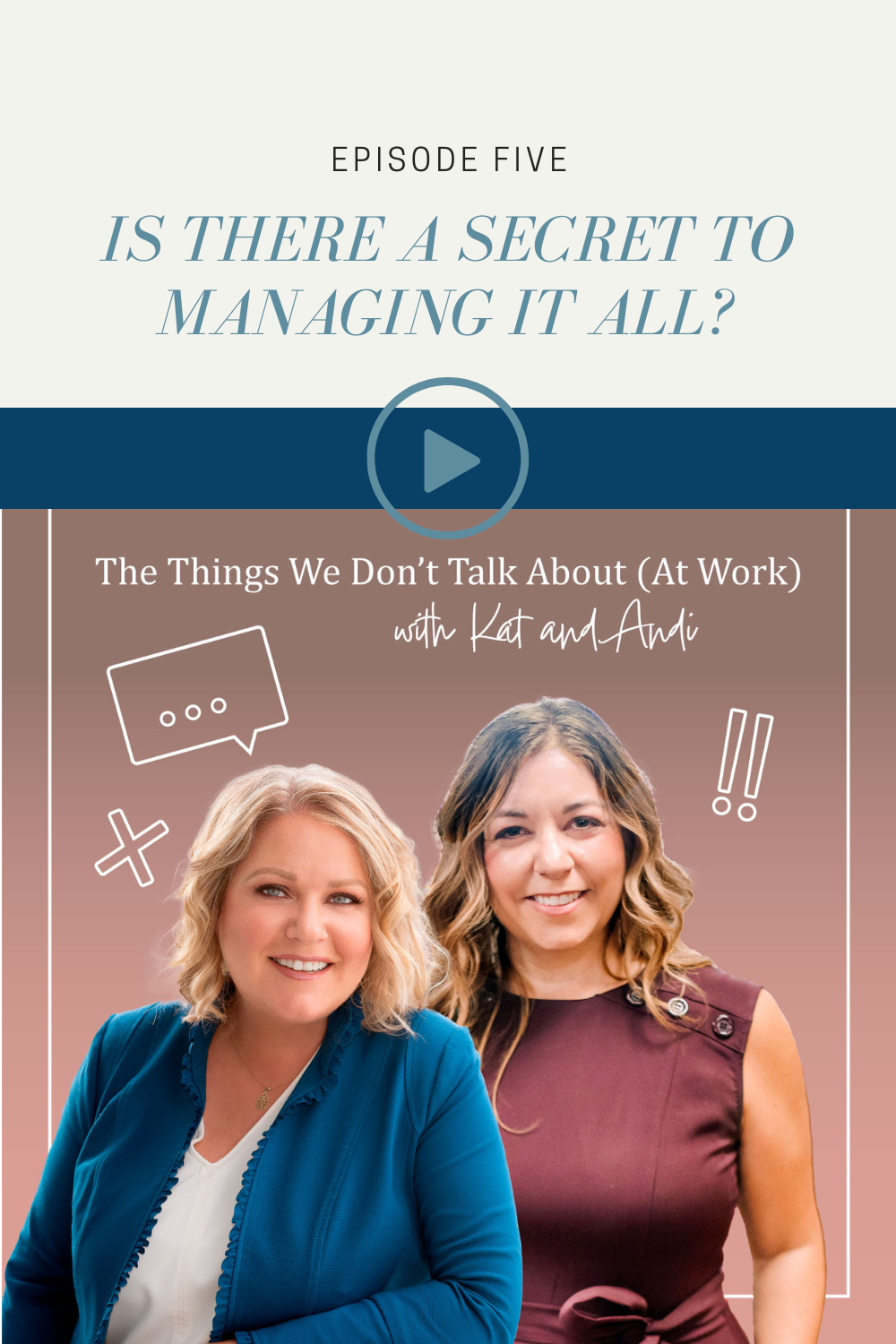 Is there a secret to managing it all?
Let's be honest, we've got a lot going on.  Life is busy, we wear many hats, and it's not always easy.  We often feel overwhelmed, disappointed with ourselves or our circumstances, and find ourselves off track. Yet we keep showing up, continuing to be productive, and walking towards the light wondering if we're the only ones having a hard time keeping it all together. Settle in as Kat and Andi talk about the real challenges we face in managing all the facets of life and uncover what might be the simplest secret that's always been right in front of your nose.
There is more than one "mic drop" in this episode, so stick with us to find out:
Why Work-Life Balance was never possible and needs to be buried forever

How we can think differently about what we give to our work

You have more power than you think you do

It's possible to make a shift right this minute
Check out the episode below:
What Do You Think?
We'd love to hear your thoughts on this episode. How do you manage it all?  Do you feel "balanced" and is that even how you would describe the goal?  Are you living your life (including work) in a way that is working for you? What are your biggest challenges?  Do you have any secrets for managing it all that we can benefit from, too?
Kat Rippy
---
Kat is the CEO of Energize Leadership, a full-service organization effectiveness consulting firm that helps leaders align people with organizational goals through leadership development and coaching, strategic planning and goal setting tools, assessment and feedback solutions, and team, retreat, and event facilitation expertise.  Kat guides CEOs and top executives as they take their business to the next level. Each phase of business growth requires unique adjustments to ensure the organization can continue to thrive as it grows. Kat and her team work alongside you to evolve strategically and enable your team to master transitions more fluidly, building a culture along the way that will sustain your organization through each growth cycle.
You can contact her at acampbell@wellsparkhealth.com.
Andi Campbell
---
Andi is the Chief Growth and Operations Officer for WellSpark Health where she drives development and execution of holistic, "total person" well-being programs to thousands of employees across the U.S. Andi is an experienced senior HR leader and previously SVP, Head of People + Culture for LAZ Parking, one of the largest parking companies in the world.  You can hear Andi's passion for people in her TEDx Hartford talk or her DisruptHR talk. Honorably recognized as the Women in Parking Impact Award winner in 2020, Andi is also a registered yoga teacher, certified Intuitive Coach, Integrative Nutrition Health Coach and black belt in Tang Soo Do. She has an MS in Industrial/Organizational Psychology, a BA in English and is currently studying to teach Qi Gong.
You can contact her at acampbell@wellsparkhealth.com.
This program is for resource purposes only. It should not be considered a substitute for medical or business advice.