Episode 6: Did Your Hormones Come With You To Work Today?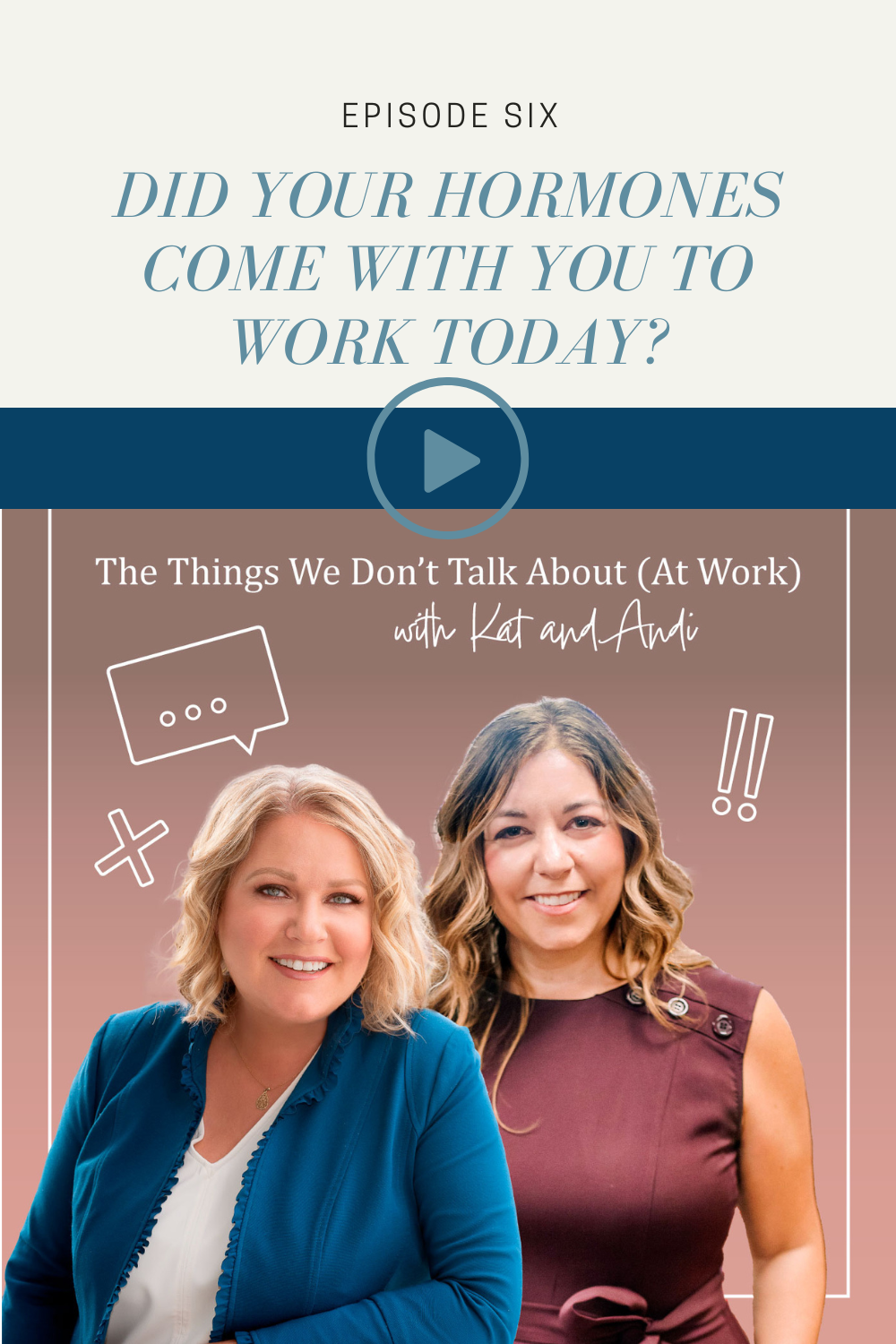 Episode 6: Did Your Hormones Come With You To Work Today?
We get it – you'll be turning down the volume for this episode.  Although hormones and periods and all the fun stuff may make you blush and want to hide under a sheet, Kat and Andi take one for the team here so we can have a meaningful conversation about how to navigate hormones better. We're all human after all!
Tune in to hear their thoughts on:
Why in the world is talking about the realities of our hormones so awkward and taboo?

Should we be talking more about hormones at work?

What are the best ways to get what you need?

How can you support others in a way that's helpful for them?
Check out the episode below:
What Do You Think?
We'd love to hear your thoughts on this episode. Do you have any good hormone stories? Please share – we'd love to hear them and it will continue to normalize the realities of our hormonal journeys.  What do you need to feel most supported in your work environment?  What do you do to support others?
Kat Rippy
---
Kat is the CEO of Energize Leadership, a full-service organization effectiveness consulting firm that helps leaders align people with organizational goals through leadership development and coaching, strategic planning and goal setting tools, assessment and feedback solutions, and team, retreat, and event facilitation expertise.  Kat guides CEOs and top executives as they take their business to the next level. Each phase of business growth requires unique adjustments to ensure the organization can continue to thrive as it grows. Kat and her team work alongside you to evolve strategically and enable your team to master transitions more fluidly, building a culture along the way that will sustain your organization through each growth cycle.
You can contact her at acampbell@wellsparkhealth.com.
Andi Campbell
---
Andi is the Chief Growth and Operations Officer for WellSpark Health where she drives development and execution of holistic, "total person" well-being programs to thousands of employees across the U.S. Andi is an experienced senior HR leader and previously SVP, Head of People + Culture for LAZ Parking, one of the largest parking companies in the world.  You can hear Andi's passion for people in her TEDx Hartford talk or her DisruptHR talk. Honorably recognized as the Women in Parking Impact Award winner in 2020, Andi is also a registered yoga teacher, certified Intuitive Coach, Integrative Nutrition Health Coach and black belt in Tang Soo Do. She has an MS in Industrial/Organizational Psychology, a BA in English and is currently studying to teach Qi Gong.
You can contact her at acampbell@wellsparkhealth.com.
This program is for resource purposes only. It should not be considered a substitute for medical or business advice.