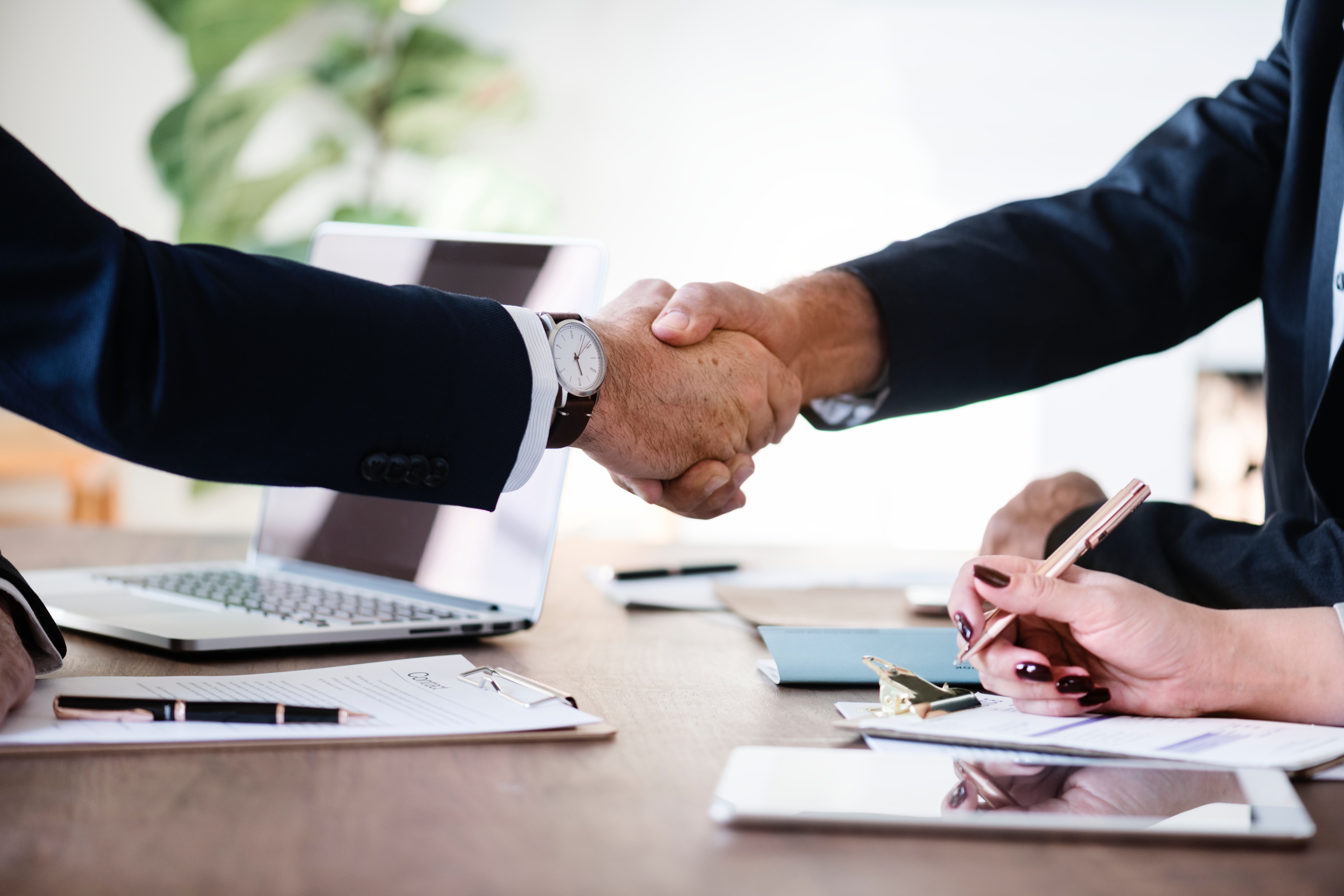 New Role, Same People: How To Show Your Peers That You Are Worthy Of Your New Title
You've worked long and hard, and now you are being rewarded with a big promotion. Congratulations! This is an exciting time.
… but it can also be a scary time for you and those around you.
On one hand, you can hear the cha-chings bursting out of your bank account and the sound of the ocean waves (courtesy of your paid vacation days) putting you to sleep.
Then, reality sinks in and you begin to feel the weight on your shoulders of all the responsibilities and people you now need to manage. You realize that you have bigger shoes to fill, and that those who once worked alongside you now report to you. You are now a leader of your peers.
But how does one soar as a leader in the same company? Further, how can one be seen in a new light when you're surrounded by people who may have –intentionally or not— put a lid on your potential?
If you want to learn how to successfully smooth-sail into your new promotion –without unsettling your colleagues–keep on reading.
BUT FIRST… DOWNLOAD YOUR FREE PROMOTION CHECKLIST!
This post is packed full of great advice. But, we're all about tangible tools here at Energize Leadership.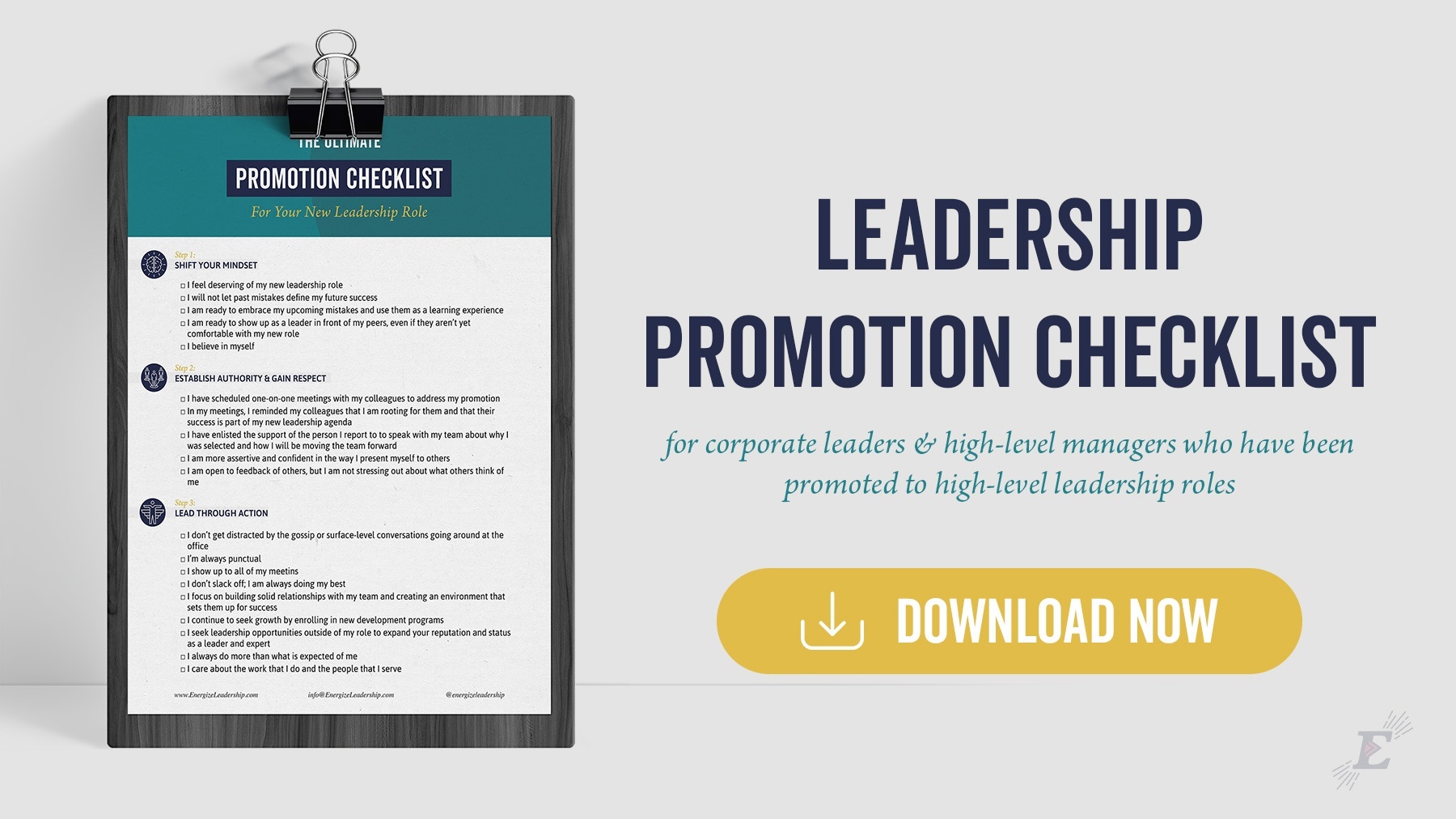 Download it now, and then let's get to work.
Step #1 Shift Your Mindset
Promotions can be intimidating. It's easy to feel undeserving or insecure at times about your new venture. In order to gain the confidence to soar and shut down barriers of doubt and insecurity, you must first accomplish these two mind-shifts:
BELIEVE THAT YOU DESERVE IT
You landed a promotion… just let that soak in for a minute! This means you're doing something right. But it doesn't just mean that leadership is rewarding your efforts; this also means that they see potential in you to do (and be) so much more. They see your worth… and you should, too!
ALLOW YOURSELF TO FAIL
You are entering a new territory, and you will probably do things you've never done before. Unless you're psychic, all-knowing, or perfect, you will most likely make mistakes. Lots of them.
And that's okay.
Your duty as a new leader is to stop fearing mistakes and simply view them as part of the package. Don't punish yourself or deem yourself unworthy of your title. Instead, embrace your slip-ups and take them as an opportunity to grow and show others your humility. Most importantly, remember that mistakes don't define you… but how you address them does.
Step #2: Establish Authority & Gain Respect
Now that you fully embrace yourself as a leader, it's time to fully step into your leadership capacity.
But how do you rise around people who once worked alongside you? The truth is, your peers have probably seen you fail. Maybe you even lack a certain skill that is now required of you. This means that while some of your peers are proud of you, others may be envious or doubtful of your abilities. And although it isn't your job to ensure that everyone is happy with your recent promotion, it IS important that they come to accept the situation and respect you in your new role.
ADDRESS THE CHANGE
To avoid friction, discuss the situation head-on. Schedule a one-on-one meeting with each colleague to discuss how you can best serve them as a leader. First, remind them that you are rooting for them. Let them now that their success is part of your new leadership agenda, and that you will do what you can to help them grow.
Tell them why you wanted the position and what you hope to accomplish so they understand your goals and direction. Enlist the support of the person you report to by requesting them to come talk with your team about why you were selected and how you will be moving the team forward.
Then, make it clear that, although you are on their side, you have a job to do. This means that your relationship will inevitably change. If they now report to you, make sure to draw the line and highlight your new authority to expect appropriate behavior and high levels of performance.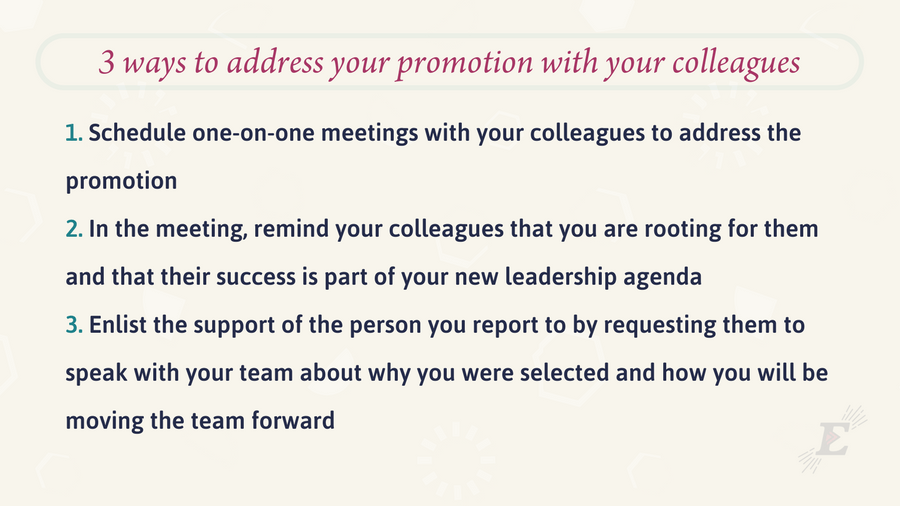 CHANGE YOUR DEMEANOR
The way you present yourself is critical in your efforts to gain newfound respect as a leader. Make sure you assert your position in a friendly yet direct manner. Walk, talk, and act like a leader. Be assertive, confident, but also humble. Consider it a rebrand of your leadership style.
BE PATIENT
As long as you know your worth, and the lengths that you can go, you are solid. Instead of focusing on your level of popularity, focus on doing your job well. Yes – you must be open to the feedback from your team. Yes – you should take constructive criticism to heart. But you should never allow it to derail you from focusing on the goal. They'll come around soon enough.
Step #3 Lead With Action
When beginning to lead a team that has a history, it is important to make things count. Make changes that matter and show up fully. Be all in.
Make changes that matter and show up fully. Be all in. Click To Tweet
KEEP YOUR HEAD IN THE GAME
Don't get distracted by the gossip or surface-level conversations going around at the office. Be in the know but don't take part in the conversation. Don't be late or slack off. Even appearing to slack off (leaving early, always being "away" at other meetings, and not showing up to meetings are all actions that leave a bad taste in their wake and cause the team to question your commitment). Make sure you are always doing your best. Moreover, make sure you are focusing on the right things, such as building solid relationships with your team and creating an environment that sets them up for success. Too many leaders get bogged down with all the tasks, meetings, and priorities, and they forget about the team. The most important thing to keep focused on is building a strong team.
SEEK GROWTH, ALWAYS
Comfort is a leader's worst enemy. Whether you report to someone or not, you should always strive to be better. Consider enrolling in new development programs (e.g. public speaking, leadership coaching, mastermind groups), requesting genuine feedback from your team on a consistent basis, setting new learning objectives every quarter, and being involved in industry events and associations. Whatever it is, make sure you continue to improve in your work and life. Seek leadership opportunities outside of your role to expand your reputation and status as a leader and expert.
EXCEED ALL EXPECTATIONS
Always do more than is expected. From meeting deadlines ahead of time, to anticipating other people's needs, to taking the time to mentor junior employees, you should always be one step ahead of the game. You're a leader, after all.
CARE.
Ask how people are doing. Ask how you can support their growth. Invite people along. Take things off others' plates every now and then. Put love into the work you do. Empathize. Listen. Uplift. And above all else… care.