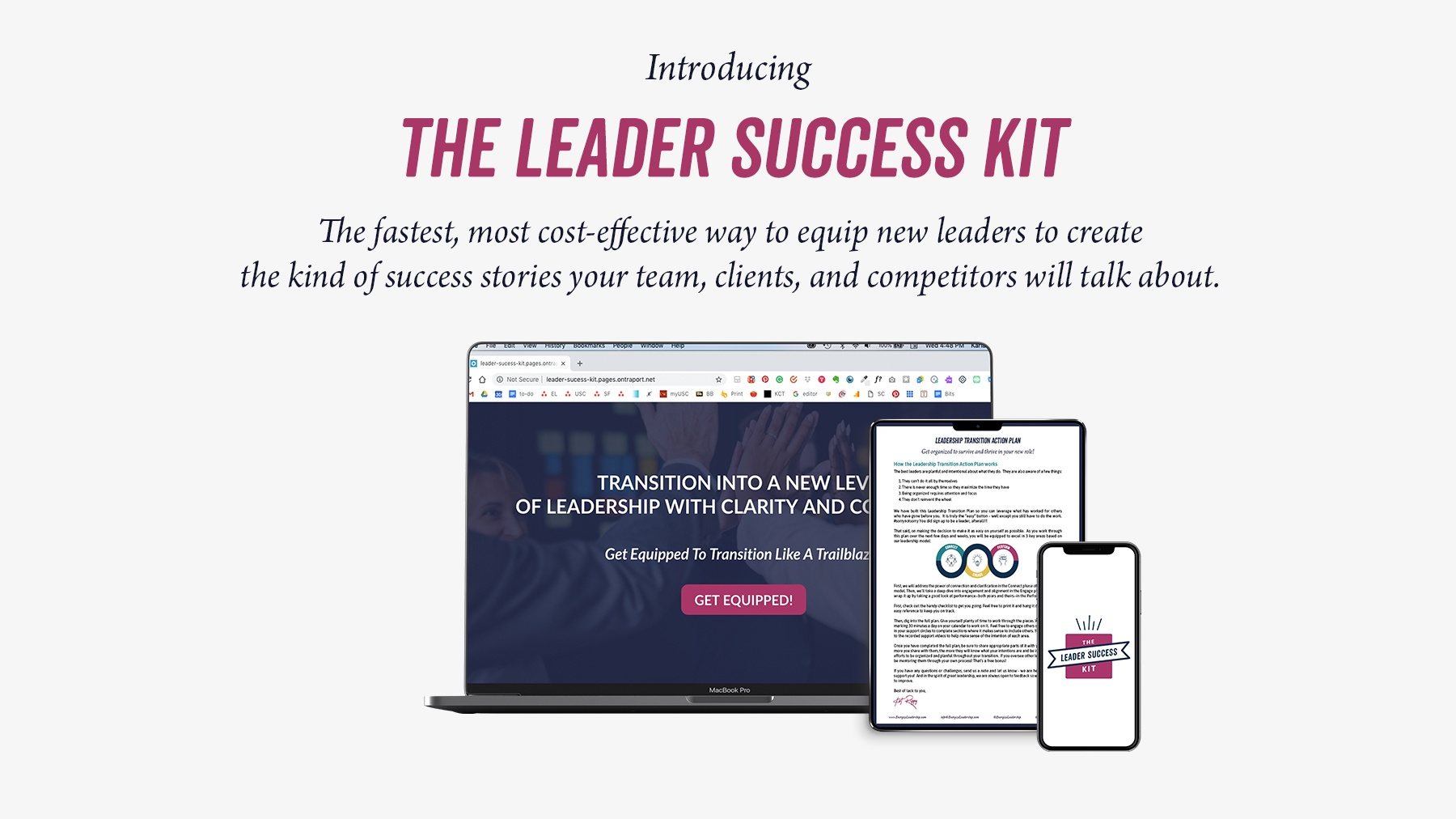 Energize Leadership Announces It's Flagship Program for Leaders Transitioning to a New Role
Energize Leadership is excited to announce the launch of our new development program, The Leader Success Kit: A Step-By-Step Program for Successfully Transitioning into Your New Role.
Built for leaders at all levels—seasoned leaders who have inherited or are launching a new team, new leaders stepping into uncharted territory, and every leader in between—the Leader Success Kit provides the fastest, most cost-effective way to equip new leaders to make their transition like a trailblazer.
What It Is
The Leader Success Kit provides transitioning leaders with the practical tools, smart strategies, and proven success systems they need to make a significant impact in 90 days.
Centered around Energize Leadership's Three Facets of Leadership—Connect, Engage, Perform—over the course of 90 days, we position you to make powerful changes based on smart strategies that will leave a lasting impact you and those on your team for years to come.

Content Overview
The program is organized under the Three Facets of Leadership and each facet has four elements for success. A new Facet is released each month—in month one, you will focus on "Connect", in month two you will focus on "Engage," and in month three you will focus on "Perform."
Who It's For
The program is perfect for leaders who…
Have taken on new increased levels of responsibility
Recently shifted from being an individual contributor to overseeing a team
Are struggling to manage the mess they walked into in a new position
Are eager to contribute at a much higher level but are in need of a little support to get there
Are eager to obliterate the negative self-talk that leaves them feeling isolated, intimidated, overwhelmed and fearful
Want to want to up their leadership game, big time!
What's Included
Loaded with power-packed trainings, game-changing resources and proven processes, the Leader Success Kit equips you to lead a team and create a success story that surpasses any goal your stakeholders can dream up.
You'll get access to all 12 lessons, cheat sheets, resource guides, project plans, and every tool you need to crush it in your new role.
Plus, we'll be by your side the whole way through!
We're committed to supporting you throughout this process, which is why we've included weekly progress check-ins and monthly guidance.
What to Expect
By the time you've worked through every component in your Leader Success Kit, you will have created a solid foundation for becoming a successful and respected leader who's able to:
Effectively manage the expectations
Foster solid relationships
Align yourself with your team
Make more money
Have more influence
Land another promotion
Feel happy and at peace
Enjoy a sense of accomplishment
Reduce stress and burnout
Lead without feeling "bossy" or like a bully
Drastically reduce a seemingly endless supply of work
Say the things you really want to say
Be constructive when dealing with failure
Facilitate productive conversations with your team (even the difficult ones!)
… and

 

SO. MUCH. MORE!
Why Now?
Most leaders make critical mistakes in their first 90 days on the job. They try so hard to get it right but they go about doing so in all the wrong ways…
They bring old baggage into new positions.
They fail to forge win-win relationships with the people that can make or break their success story (it's probably not who you think it is).
Their big vision is shot down as "impractical, unsustainable, over budget" or any other number of excuses from small-minded people.
As a result, transitioning leaders quickly lose their fire and zeal and are left feeling discouraged, disillusioned and disappointed—or what we call, "the 3 fatal D's."
…that's where the Leader Success Kit comes in!
The Leader Success Kit helps leaders reignite that fire in their belly and create a winning transition strategy so that they transition into a new level of leadership with clarity and confidence.
Start Your Leadership Success Kit Today
The time to capitalize on this unique opportunity isn't in 3 weeks, 3 months or 3 years from now. It's TODAY. Right here. Right now. Get your leader success kit today.
Get a taste of the Leader Success Kit!
On the fence about The Leader Success Kit? Get a taste of what to expect with our FREE Transition Action Plan!
And, of course, if you have any questions, comments, or concerns about the program, feel free to contact Energize Leadership today.