Episode 016: Debbie Gross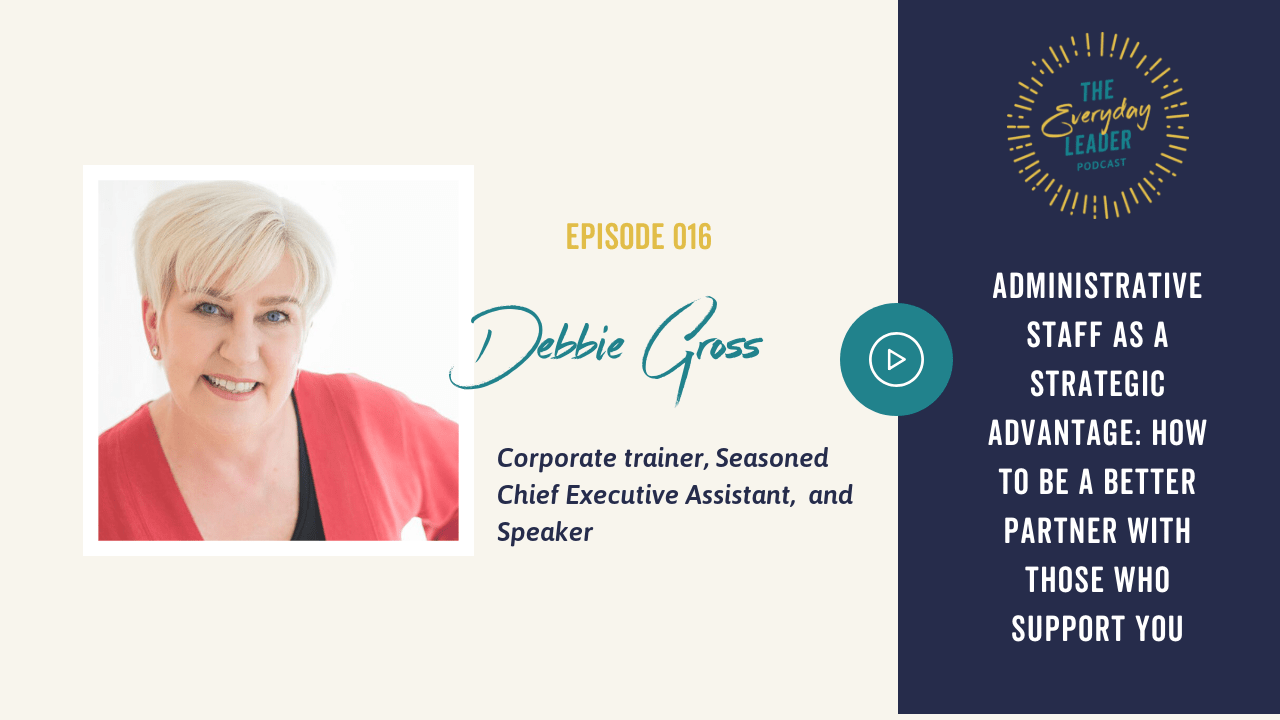 Administrative Staff as a Strategic Advantage: How to Be a Better Partner with Those Who Support You
with Debbie Gross
Debbie Gross is the former Chief Executive Assistant to the former CEO of Cisco and has over 30 years in the field of administrative service. She is not your typical administrative assistant. She is considered a leader and champion for the administrative professional and has spent her career creating programs and initiatives that focus on recognition, mentorship, guiding company policies to support excellence in the administrative arena, encouraging teamwork within the organization, and the continual development and skill improvement among administrative professionals.
As you would expect from a stellar administrative professional, Debbie has a keen eye for how to support others. But she has also been able to harness her talent for systems and strategy to become more of a partner. Based on her long career working side-by-side an admirable CEO in a true partnership, Debbie has launched her own administrative support training and development business to grow and develop top-tier administrative talent.
I asked Debbie to join us on the Everyday Leader Podcast because I think administrative support is mostly underutilized or not correctly leveraged by the leaders of today, and it is a great opportunity for all of us to think a little bit differently about how we could benefit from an administrative partnership that really works.
I'm so excited for you to hear Debbie's perspective – so without further ado – let's meet Debbie Gross!
Check out the episode below:
Highlights of this episode include:
Debbie's journey and how she got to where she is today
Debbie's 26 years of experience working for John Chambers (former executive chairman and CEO of

Cisco

)
Important things administrative professionals should know about their boss in order to properly support them
The need for relationship management in the administrative profession
How to be a "flexible" zombie in order to survive your boss' good ol' last-minute calendar changes (plus an awesome baseball analogy!)
How to leverage strategic thinking and emotional intelligence in order to be irreplaceable (even by artificial intelligence).
… and more!
We'd love to hear your thoughts on this episode. What was your biggest takeaway? Are you going the extra mile for your administrative employees?
Subscribe today to The Everyday Leader Podcast!
Want to be the first to know when new episodes are released? Click here to subscribe in iTunes!
Also, podcast reviews are pretty darn important to iTunes and the more reviews we receive, the more likely we'll be able to get this podcast and message in front of more people. I'd be extremely grateful if you left a review right here letting me know your favorite part of this episode.
Books Mentioned:
Connecting the Dots: Lessons for Leadership in a Startup World
Stay in touch with Debbie:
#TheEverydayLeaderPodcast
Loving the podcast? I encourage you to use the hashtag #TheEverydayLeaderPodcast to show our tribe how you lead with integrity and intention everyday.
Thank you for listening!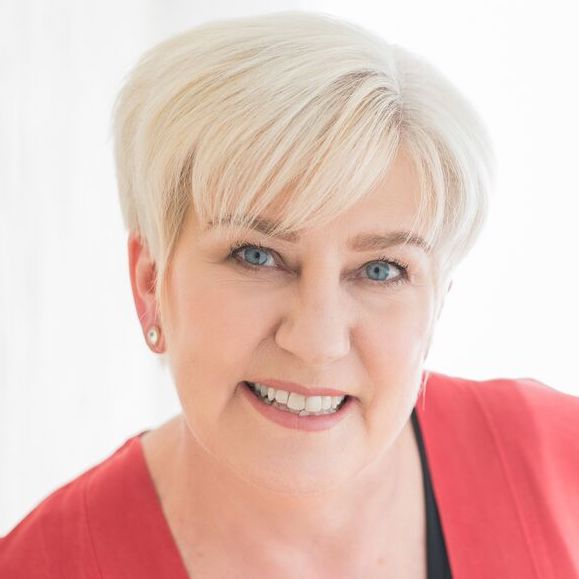 Debbie Gross is a trainer and coach in administrative professional excellence with over 30 years working in the administrative profession and was formerly the Chief Executive Assistant to the CEO of Cisco.  She is considered a leader and champion for the administrative professional, creating programs and initiatives that focus on recognition, mentorship, guiding company policies, encouraging teamwork and continual development and skill improvement.  Having received the Colleen Barrett Award in 2016 by the Admin Awards of Silicon Valley, the highest award given for administrative excellence, she is a passionate advocate for the administrative profession.
Debbie has a unique ability to bring out the absolute best in each administrative professional or Executive Assistant she works with.  Her focus is in coaching and training administrators and executive assistants on how to up level their soft skills and build on their confidence. Debbie has transformed hundreds and hundreds of administrative professionals in to true leaders and powerful presences conducting workshops and speaking to companies such as Cisco, Veritas, Facebook, Fenwick & West and FEDX.
Debbie brings her own personal stories, best practices, tips and tricks from her highly successful administrative career to the stage and into the classroom.  Her distinctive teaching style generates creativity, fun and new thought processes for administrative professionals that have resulted in greater career satisfaction, promotions and recognition for them within their organizations.
Traveling the world as a speaker and trainer, she is considered a spokesperson for the profession.  Debbie truly cares about each and every one of her clients and her 'one-of-a-kind' approach to training literally transforms a good administrative professional or executive assistant into someone who is amazing and a true business partner!
Having been born and raised in Mississippi, Debbie has a down-home, Southern style that makes others feel comfortable being around her. She and her husband of 33 years and their two furry cat "kids" reside in Campbell, California and when she has free time,  she is reading great books of inspiration, loves to golf, drives her red sports car and sings karaoke on weekends.