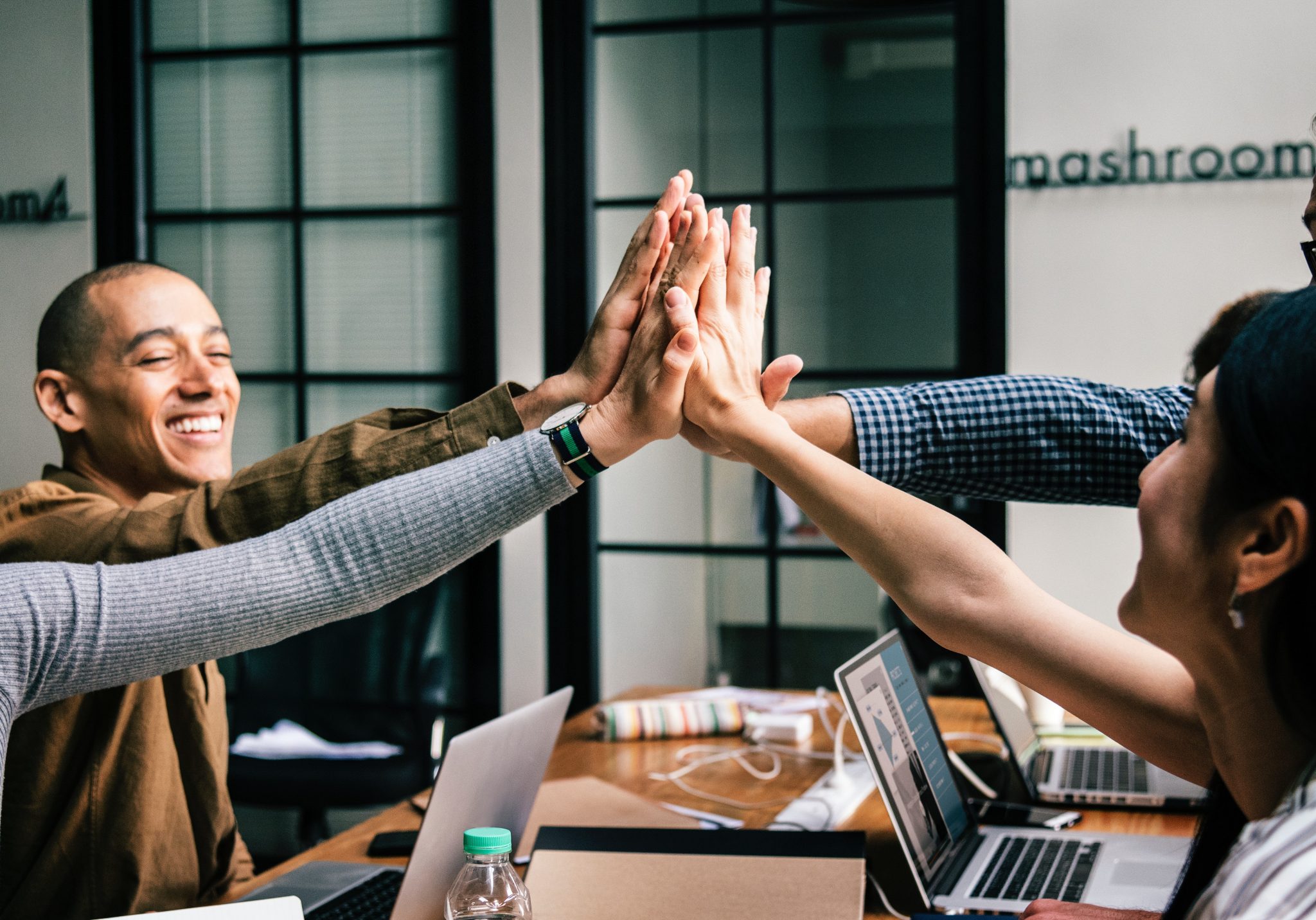 Life in the Trenches: How one COO Leads a Rock Star Team and Maintains a Life He Loves
Do you struggle with "having it all" but also "managing it all?"  Living the life of a leader is not for the faint of heart. It takes a lot of effort to get to the top ranks and along the way decisions are tough to make and can have a tremendous impact on your life.  You don't always do the right things and hindsight is always 20/20.
We talked with Dr. Jeremy Hirshberg to get a fresh perspective of life as a leader today – managing a career and a growing family while maintaining personal health.  Jeremy is currently the Chief Operating Officer and Management Consultant for Transitive Media, Specific Performance, and LeadClient (Start-up), which are marketing and advertising companies in the Legal sector. We learned a lot about his career journey and how he leverages his expertise as a leadership consultant in his role now as Chief Operating Officer, which includes several nuggets on leading a great team and incorporating a commitment to health into the workplace!
Listen in to his treasure trove of insights to learn from.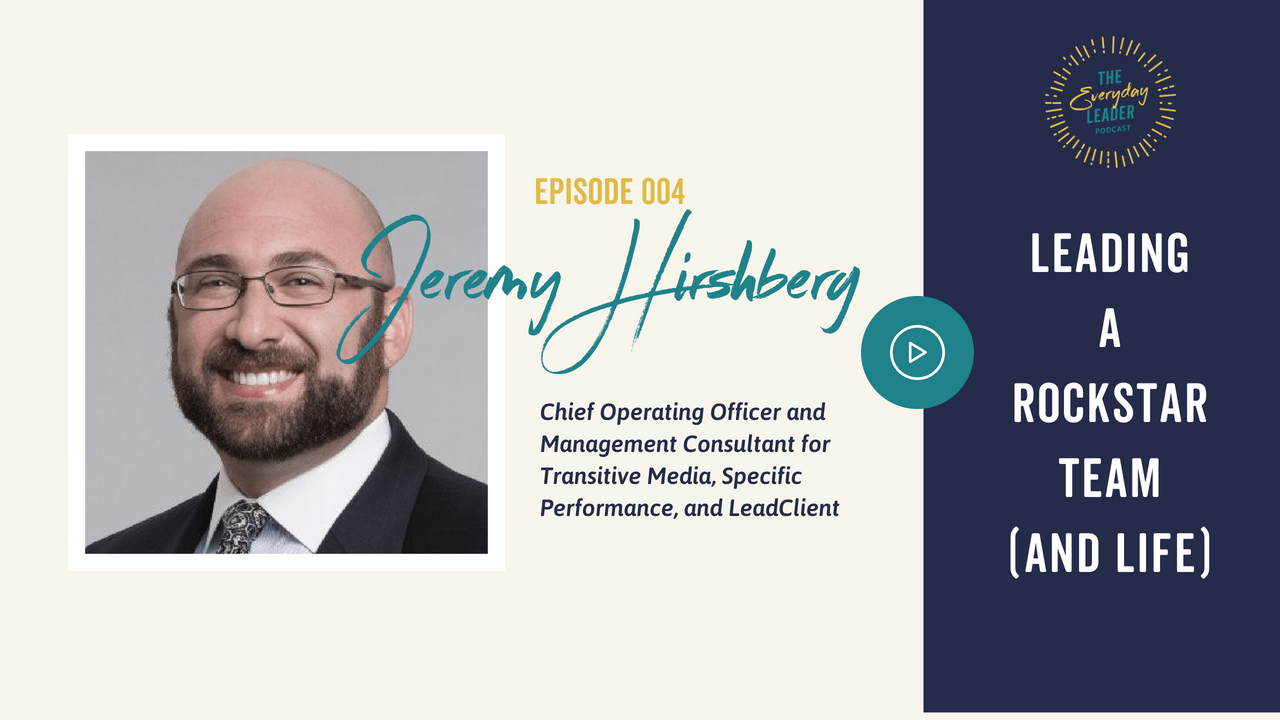 Here's a quick read on what Jeremy had to say about leading well both at home and at work:
You are never just a leader
You wear multiple hats and especially in smaller firms, everyone has to roll up their sleeves to get the job done. In an ideal world, a leader would just lead and manage a team, and develop talent, but no one really lives in that world – you have to be able to handle it all to a certain extent.
Become a numbers "junkie"
Look at anything that will provide you with insight about the experience of the employees and the customers.  Encourage them to dig in to data as well. Build a better process together. Pro tip: Have your employees keep a journal to write down their ideas and suggestions. Discuss them frequently!  
Finding good talent is a challenge
It's difficult to find a suitable cross-section of young, motivated, driven personnel today. Great talent exists but finding it is a major obstacle when you're scaling and growing and trying to keep the momentum going.  Striving for a strong culture with an environment where people benefit from being successful and have supportive management is key to attracting and growing the right team.
"Hire slow and fire fast"
Take your time to acquire the best talent. Spend the time to build the most appropriate role and get clarity on what the best fit looks like.  Then stay in the recruitment phase until you find that best fit, don't take second best. If you have non-performers, do not delay the separation process. Give them the tools and the opportunity to improve, but if not, separate quickly. To have anyone who is not fully engaged is bad business and doesn't do favors for anyone.
Importance of self-care.
Make time to exercise. Constantly look for ways to be active, even small things. Diet, exercise and sleep, eating healthy are a must. You'll be more productive. Avoidance of burnout is imperative.
Life is not about work!
Easier said than done, but you need to find something that interests you even more than work! Force yourself to do things other than work even when the list of things you need to do is mounting.  It's imperative to keep stress low.
Commitment and ownership
Even if you are not the business owner, employees can still take ownership of issues and problems. If you see something that needs to be improved, just do it! Encourage people to run with their ideas and solutions.  Recognize people for chipping in and taking responsibility for making good decisions, for taking the ball "all the way," or picking up slack. Always reward them for making a positive difference in the bottom line.
Celebrate wins!!
Recognize wins across the organization. Work hard, play hard. Life's too short and work evolves to quickly to do it any other way!
Commit to the trifecta for good health
Diet, exercise, and sleep.  Focus on fuelling your body with food that is healthy, engage in physical activities you actually enjoy, and get the amount of sleep you need to thrive.  It is critical to put your health first and encourage your employees to do the same. Build it into work as much as possible to foster great habits!
—
So leader friends, how many of these things are you already doing? Where are you missing the mark?  We're making some adjustments over here as we speak cuz we just love some of Jeremy's ideas! Our Leadership First Evaluation is the perfect quick tool to check in with yourself and carve out some opportunities to dial up your leadership – both at home and at work.  Be sure to check it out!
BUT FIRST… DOWNLOAD OUR LEADERSHIP FIRST EVALUATION!
Click here or the image below to access our Leadership First Evaluation and see where you or your leaders shine… and where you can build a stronger foundation for leadership success.